ANNOUNCING OUR BOOK!
Inside Job: 8 Secrets to Loving Your Work and Thriving!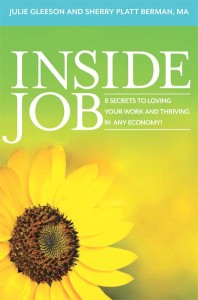 BOOK SYNOPSIS:
Everything you know about career planning is backwards. INSIDE JOB dispels the traditional methods of career planning (which are no longer effective) and illuminates the secrets of satisfying and lucrative work. These insights and wisdom remind us that passion, heart, and spirit have cash value in today's market . INSIDE JOB teaches us that career satisfaction starts on the inside.
INSIDE JOB knows that you have built your career on a paradigm that is ending and we're happy to see it go. This is a book for new thinking and a new kind of resiliency that will keep you employed for a lifetime. If you want to live your work and love your life on your terms, in your way in abundant health, wealth, and wisdom, then read this book now to learn how to have an INSIDE JOB so you can love your work and thrive!
"This is not a self help book, but rather a self fulfillment one. The title's promise is real–between these pages you will find out how to build your work life from the inside out and thrive as a result." –MJ Ryan, author of This Year I Will: How to Finally Change a Habit, Keep a Resolution or Make a Dream Come True
"Finally! A career development book that gets it right. Inside Job shows us how to look within to our own innate wisdom and capacities to create our ideal career.  I love that the book helps us let go of limiting thoughts like fear and self doubt to discover our resiliency that enables us to live our dream job.  This book is truly transformational."  –Mark Howard, PhD, Three Principles Institute.
Read the Introduction Introduction
Purchase Through Amazon
See our book trailer!